(The following article is property of Avenue Code, LLC, and was originally published with permission at TotalRetail on November 7, 2018.)
Angela Hsu, Senior Vice President of Marketing and e-commerce at Lamps Plus, discusses her strategies for using marketing campaigns to generate sales through innovative and personalized digital consumer experiences.
Avenue Code: Tell us about your career at Lamps Plus and how your role has evolved.
Angela Hsu: I began working at Lamps Plus in 2003 when our e-commerce business was relatively new. At that time, Lamps Plus was a retail leader in the brick and mortar space but not in e-commerce, so I saw a great opportunity to grow its presence in that sector.
Over the years, I've scouted talent based on emerging e-commerce trends and marketing opportunities to position Lamps Plus for success. My team has grown to 40 in marketing (paid search, natural search, media, paid/earned social, influencer marketing and partnerships), site strategy (site technology, A/B testing, usability, analytics and customer insight), PR and brand, web creative services (design, editorial content and video) and marketplace (Amazon, eBay and Walmart). I report to our founder and CEO.
AC: Lamps Plus has consistently ranked among the top 200 retail websites by Internet Retailer magazine. How do you maintain such an impressive online presence in the continuously and rapidly evolving world of e-commerce?
AH: I run our day-to-day internet business like a startup in terms of innovation, flexibility and agility. We embrace new ideas supported by data. We are always testing and iterating new initiatives and taking calculated risks. If tactics are working, we scale. At any given point in time, we run hundreds of tests, both small and large, for both our website and our marketing strategy. This agile approach allows us to adapt to the evolving world of e-commerce.
AC: How have you tried to implement innovation at Lamps Plus?
AH: I think about what our customers are going to expect from online and offline shopping experiences in the future and how we can position ourselves to exceed those expectations by working with the right technology and media partners that share our vision.
Because of my electrical engineering experience and my MBA studies in finance, I take a data-driven approach to website strategy, marketing and creative storytelling. Innovative initiatives frequently come from team meetings, including those covering business, website and marketing. Usually, an abnormal metric sparks conversations on why that occurred, and then we propose hypotheses to solve these problems. We always test our hypotheses before we scale, and we embrace ideas from everyone on our team.
I also look at the competitive landscape to discover what other retailers are doing and which technologies they're using to see what makes sense for our company.
AC: What are your thoughts on personalization?
AH: As consumers' attention spans shorten because of mobile, it's more important than ever to personalize. Consumers expect the same online shopping experience that they get in stores, and vice-versa. For instance, when a customer walks into a Lamps Plus store, a sales associate recommends products based on what that customer browses in the store. The browsing behavior could be by product category, style, finish or collection. We strive to replicate this experience on our website.
Personalization online allows us to not only emulate the customer's in-store experience but also to raise the customer experience to the next level. On the web, we can take advantage of artificial intelligence to make product and content recommendations based on browsing behaviors, historical purchases, device type, geographic location and referring sites. The possibilities are endless.
For example, if a customer likes watching our buying guide videos or views our curated room inspiration, we want to personalize content accordingly and highlight videos or room inspiration when they return to our website. I've seen a significant shift in e-commerce from focusing on products to focusing on each individual shopper through a personalized experience. Personalization seems like it will become almost required in e-commerce.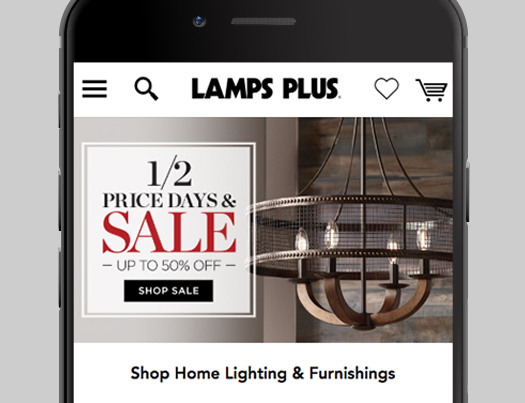 Lamps Plus website on mobile device. Image courtesy of Lamps Plus.

AC: How can companies differentiate themselves with a mobile-first strategy?

AH: "Mobile first" has been among my top 5 priorities the past few years. We started with quick mobile wins such as graphics, copy, video and marketing. This past year we made strong progress on website speed and site design.

I encourage my leadership team to review all graphic, copy and video content on their phones to see how a user would experience that content on a small device. We allocate more budget to mobile marketing and use multi-touch attribution to analyze how mobile campaigns drive traffic to our stores or our desktop website and then to conversions.

We consider load time and speed as part of the design process. We run A/B testing for site features and functionalities more on mobile than desktop. As a result, our mobile site is faster than the industry average. We're also adding additional personalization features to give our shoppers what they are looking for quickly on their mobile devices.

AC: Where do you find the best ROI when it comes to investing in new technologies?

AH: I prefer to partner with best-in-class vendors rather than to build technology features in-house. Vendors tend to work with a variety of companies, which allows them to enhance their solutions based on knowledge and feedback from multiple clients.

I also like partnering with vendors for their product development benefits so we can grow together. We are in several beta programs with our technology and media partners.

AC: How do you manage to oversee so many diverse functions within your team?

AH: I thrive when I'm multi-tasking. Marketing initiatives aren't successful unless they lead to conversions on our website – marketing and e-commerce go hand-in-hand. We invest significantly to optimize marketing campaigns, but when consumers get to our site, they need to continue the shopping funnel and convert.

Marketing also includes telling our brand story via visual display, editorial content, videos, PR and social media in a cohesive and authentic way. Thus, it is critical that marketing, site, creative services and PR all fall under one umbrella.

AC: Where specifically do you see the opportunity to innovate?

AH: I see the opportunity to target our customers based on the marketing channels they are more likely to convert from, showing these customers creative that resonates. This requires the utilization of online and offline data and predictive analytics to understand our customers' path to purchase with refined micro-segmentation and dynamic creative optimization. I am excited about the emerging technology that allows retailers to move in this direction.

There's more to figure out for on-site personalization. Multi-channel retailers without a significant number of login users have unique challenges in scaling personalization in a cross-device and cross-channel shopping environment. Lastly, I am also excited about visual search as well as chatbots that complement live chats!

AC: Angela, thanks for taking the time to chat with us about how you're keeping Lamps Plus' e-commerce presence so robust. It was great to hear your insights on best practices for marketing, from utilizing agile methodologies and mobile first strategies to partnering with best-in-class tech vendors. It's always inspiring to hear about well-established corporations like Lamps Plus that continue to adapt and innovate!
---

Author
Anna Vander Wall
Anna Vander Wall is a freelance senior editor and writer in the tech industry and beyond. She particularly enjoys collaborating with Avenue Code's talented Snippets contributors and whitepaper authors.
---
Related Posts
Avenue Code Opens Its Doors in Portugal
READ MORE