Tech in Motion announces Avenue Code as a top local company to work in tech. Voting is open for the 2021 Timmy Awards!
Avenue Code has been selected by Tech in Motion and the local tech community as a 2021 Best Tech Work Culture finalist for the Timmy Awards, which is dedicated to celebrating the top tech workplaces across North America.
Going beyond "perks," these Timmys finalists bring together tech employees over a shared mission, promoting innovation, learning, and technical creativity.
"One of the most difficult challenges businesses have had over the past year is maintaining a positive work culture," said Mandy Walker, Executive Director of Marketing at Motion Recruitment, Tech in Motion's creator. "The companies nominated for 'Best Tech Culture' exemplify how an organization can inspire innovation and better the lives of their tech teams, even while working remotely."
Among the many reasons Avenue Code was named a Timmy Award finalist is the consultancy's demonstrated commitment to company values of Integrity, Innovation, Collaboration, Respect, Trust, Passion, Possibility, and Play. As employees have attested, there is no disconnect between stated values and team experience. It is a true testament to Avenue Code's culture that, even during challenging seasons like the pandemic, the consultancy has won multiple awards for Best Place to Work (BuiltIn), Best Company to Work For (Great Place to Work), and Best Company for Career Growth (Comparably) -- purely based on employee ratings.
Now Avenue Code has yet another chance to lead the San Francisco Bay Area and North America by winning the Best Tech Work Culture 2021 Timmy Award.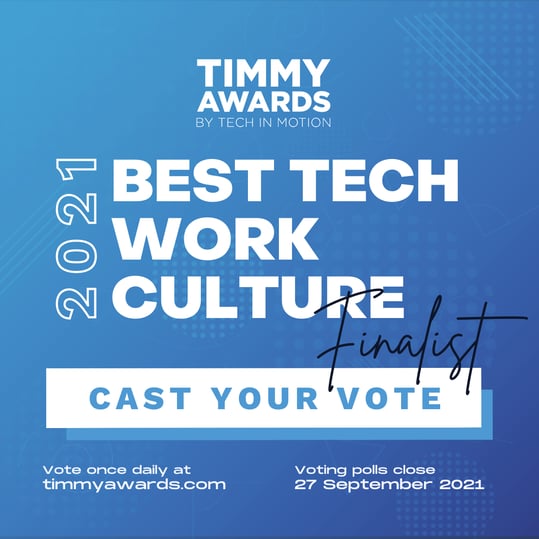 Avenue Code Founder and CSO Zeo Solomon reflected that "We're extremely proud of the ways in which we have been able to maintain and even nurture our core values in the midst of external pressures like the pandemic and internal growth as we expand into new geographies. Avenue Code operates in more than 30 locations, and our employees represent more than 50 different countries and a wide spectrum of backgrounds. But we are all one Avenue Code. That's what has enabled us to create the most endearing and diverse culture you'll ever find."
San Francisco's tech community and extended network are invited to vote for Avenue Code once every day to represent the region in the national round, where industry leaders from companies like Netflix and Oracle will select national winners. Regional voting closes on Sept. 27 with winners announced in early October.
This year, the Best Tech Work Culture will be separated into two categories, one for Small to Medium Employers (1-250 Employees), and one for Large Employers (251-999 Employees) like Avenue Code.
The 2021 Timmy Awards Ceremony on Thursday, October 28th will once again be an entirely digital experience, complete with words from this year's host and expert judges, the announcement of the 2021 Timmy Award Winners by category, and more. To learn more, visit the Timmy Awards website.
About Tech in Motion Events
Tech in Motion is a North American events series that brings local tech community professionals together to connect, learn and innovate. What started as a small collaboration in 2011 by IT recruiting firm Motion Recruitment grew into an organization of over 250,000 members across 14 chapters in North America including Boston, Dallas, NYC, Philadelphia, DC, Chicago, Toronto, San Francisco, LA and more. Visit techinmotionevents.com for more information about notable speakers, sponsors and events.
About Avenue Code
Avenue Code is the leading software consultancy focused on delivering end-to-end digital transformation solutions for enterprise organizations of all kinds. We have guided Fortune 100 companies through their software innovation journeys since we first opened for business in 2008.
What Avenue Coders Are Saying
"Avenue Code's values are not just printed on paper. They are experienced every day. Respect prevails. No matter your experience and no matter your background, you are heard." Roseane Silva, Java Engineer, with AC since 2019.
"Since day one, I've had a lot of freedom to share my ideas with our leadership team. There's a culture of constant knowledge sharing at Avenue Code, and every day I get to learn something new." - Renan Camponez, Principal Architect, with AC since 2011.
"I'm proud to work at Avenue Code, not only because it defends diversity and a multiplicity of ideas, but also because it does a lot of social work and gives back to the community." - Rafael Macaroun, Java and UI Engineer, with AC since 2012.
"Avenue Code allows you to have a balance between work and life in a way I've never seen, all while having the amazing opportunity to work on multiple international projects." Jimmy Mayal, Technical Manager and Product Owner, with AC since 2017.
"I don't feel like I'm getting up on a Monday morning to go to work, because I love what I do. I really admire how we are so diverse, interacting with cross-functional teams across continents." - Shreya Hegde, Talent Acquisition Consultant, with AC since 2018.
---

Author
Anna Vander Wall
Anna Vander Wall is a freelance senior editor and writer in the tech industry and beyond. She particularly enjoys collaborating with Avenue Code's talented Snippets contributors and whitepaper authors.
---
Related Posts
Built In Honors Avenue Code in Its 2022 Best Places To Work Awards
READ MORE