Have you ever felt like you are so involved with your work that you are losing control of your personal life? Have you ever seen yourself delivering all your work right on time but then forget to pay a bill or buy your wife's birthday gift? Well, let me tell you: you are not alone! What you might not have considered is that, as an enthusiastic Agilist professional, the same good practices that you utilize with all your work can also be very helpful with your personal daily life. But how?
Let's start with the concept that everyone has their own personal tasks backlog. That includes bills to pay, things to buy at the supermarket or drugstore, medical appointments to schedule or attend, maintenance for a house or car, meetings with friends or family, and so on. The list seems to be endless and continuously changing on a daily basis. First, try writing these tasks down on post-its. There, you've just created your backlog just like any project on JIRA or Trello (Trello is a useful tool by the way, and it's free to use)! The list can, and should, be shared with your stakeholders - usually a husband, wife, parents, or whoever shares household responsibilities with you. The next step is to plan your week. Like we say to our clients, we have a limited capacity and can not solve everything in such a short period. This weekly planning should be done according to the urgency of each task ranging from most urgent to least.
Once your week is planned, try putting it on a board - that way, you have your brand new personal scrum board that you can use to help manage your personal agenda in a more systematic way. You should check it on a daily basis to ensure that everything is on track, just like you would do with your team in a standup meeting. By doing that, you can also take action, such as changing priorities or shifting tasks to the subsequent week if you notice that something is going wrong. At the end of the week, do a personal review to check what you were able to and not able to accomplish, and re-prioritize your backlog to re-start the process for next week. It's also important to note that a kanban board is also useful for this kind of task organization. If you are using kanban, that means that instead of a fixed set of tasks to be solved in a week or two, you have a queue of tasks ordered by priority that you can deal with without the tight restriction of time.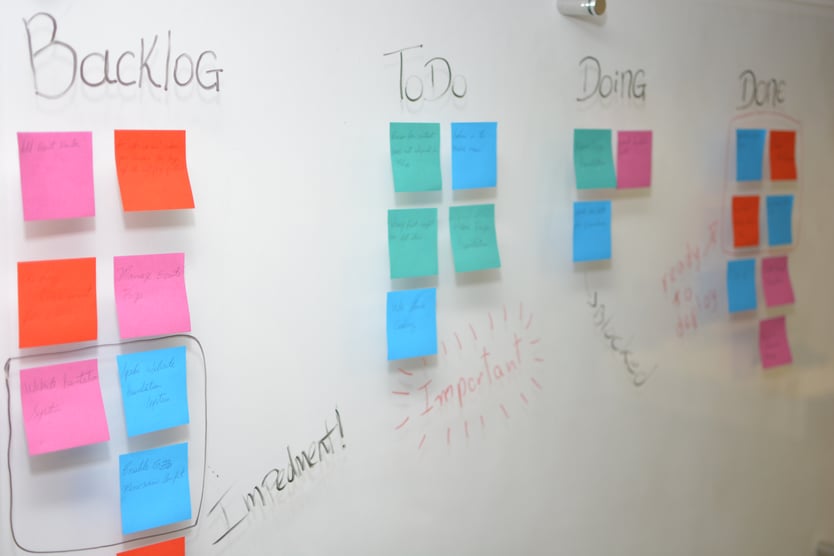 Although extremely applicable to the everyday tasks in our lives, these practices can be even more useful when leveraged to accomplish personal projects, such as planning a trip or organizing a wedding. In these cases, you have a high-level, well-defined scope with tasks that need to be distributed on time and to multiple stakeholders. Scrum is so applicable to this kind of endeavor, that there is even a website called Scrum Your Wedding! They offer a guide and toolkit to help people use these practices while planning their wedding. It's a creative and useful way to deal with something that could potentially become relatively complex and stressful for many couples.
Another very good example of utilizing Agile methodologies to improve personal and family life organization can be found in a very popular TED talk from Bruce Feiler. In this talk, he explains how he used Agile practices to improve his family life and create better quality time with his wife and children. This included sprint planning, checklists for the children's tasks, and frequent meetings to evaluate results.
So, hopefully now you've been properly incentivized to incorporate Agile methodologies into your personal life. They can help with reducing daily stress through the utilization of more planning, organization, and self-reflection. Let me know how it works for you, and best of luck!
---

Author
Ludmila Roizenbruch Paiva
Ludmila Roizenbruch Paiva is a Project Manager at Avenue Code. She is passionate about Agile, trying to bring together the best of both worlds, and applying agility to daily project management. Take it from her--it can work wonderfully!
---
Related Posts
Mixing Heart of Agile and VUCA Prime to Enable Business Agility
READ MORE
---