Why are some companies thriving in our post-pandemic economy while others fail? There is one key differentiator: today's winners are tech-driven.
Time and again, we see that successful companies already have - or are consciously evolving toward - a high level of digital maturity that allows a reinvention of their business model, its processes, and its products/services.
This article is the first in a series of five blogs that present step-by-step guidelines to help organizations add business value by increasing digital maturity in three key areas: business strategy, design services, and digital evolution enablement. Today, we'll define what we mean by digital maturity and explain why it is increasingly indispensable to economic success.
Introduction
"Going digital" is frequently regarded as a new phenomenon, but a quick look at history shows that it has been key to business success for more than 50 years. Companies that are driving digital transformation thrive, while companies that fail to evolve suffer fatal repercussions (see Kodak, Blockbuster, and Xerox, among others). As technological capabilities increase, so does industry disruption. Improved connectivity, processing, and storage result in improved efficiencies, better consumer experience, and valuable innovations in products and services. In short, technology has radically changed societal habits, creating a much more demanding consumer market and accelerating marketplace competition.
The importance of digital maturity is only accentuated in today's globally uncertain economic climate. Now more than ever, tech-driven companies are poised to survive, thrive, and outperform competitors. Many companies survived the global shelter-at-home protocol because they already had a level of digital maturity that allowed for a reinvention of their business models, processes, and products/services. Organizations that were not already focusing on digital maturity before the COVID-19 pandemic, on the other hand, had to chase digital knowledge and evolve in weeks in order to win a race that is necessary for business survival.
What Drives Digital Transformation?
Generally speaking, there are three scenarios that mandate organization-wide digital transformation: 1) the business strategy is dependent on digital implementations and innovations; 2) one team within the organization is successfully utilizing the Agile methodology, design thinking, and other best practices, demonstrating their value and the need to replicate this model throughout the organization as a whole; 3) the customer demands digitization of services/products.
What is Digital Maturity?
Digital evolution must encompass an organization's mindset, processes, technologies, and best practices, permeating the business from strategy to execution. Digital maturity hinges on evolving digitally in three key areas: aligning business strategy and digital initiatives; utilizing design services to improve processes, provide a better consumer experience, and identify new opportunities; and digital evolution enablement related to people and organization, data and analytics, and technology, all accelerated by Coach by Emergence.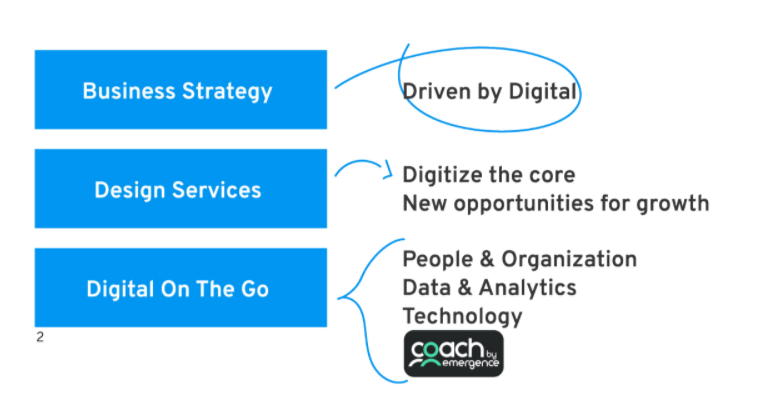 How to Create a Mature Business Strategy
Next week, we'll discuss how to create a mature business strategy to support your digital evolution. Don't want to wait? Download our free whitepaper for your complete guide to organization-wide digital maturity.
References
How Blockbuster, Kodak and Xerox Really Failed (It's Not What You Think), Greg Satell. Inc.com.
Image and ideas based on materials from the "Digital Transformation" course offered by Boston Consulting Group, University of Virginia. Coursera. Accessed 9.16.2020.
---
Author
Alexander Carvalho
Alexander Carvalho is the Global VP of Delivery at Avenue Code. He is a seasoned leader with over 17 years of working experience in IT and high performance distributed teams, leading professional software consulting firms focused on delivering end-to-end technology solutions based on Agile for enterprise organizations of all kinds. He is experienced in managing development centers globally with distributed teams offshore and nearshore across the US, Brazil, India, the UK, Canada, and the Netherlands.
---
Related Posts