In our previous articles, we've provided step-by-step guidelines to help your organization add business value by increasing digital maturity in three key areas: business strategy, design services, and digital evolution enablement. In our last article, we'll introduce a way to accelerate your digital maturity to realize results faster.
What is Coach by Emergence?

Coach by Emergence (CBE) is a trademarked Avenue Code methodology that accelerates organization-wide digital transformation. A coach by emergence is a role-specific, hands-on mentor who works diligently within the team to seed Agile best practices for a specific role until the relevant team members emerge as thought leaders.
This methodology pairs Avenue Code coaches with specific roles inside a company. The CBEs are distributed throughout the organization as needed. They first understand the company culture and then model how to perform the responsibilities of each role within an Agile framework. Coaches by emergence are catalysts. Companies can leverage CBEs to enhance the technical skills of specific roles as well as to create or improve an Agile culture in order to accelerate company-wide digital transformation.
How CBE Works
Avenue Code deploys coaches throughout the organization to be paired with delivery teams, product managers, finance, HR, business development, stakeholders, etc. These coaches work within the organization, mentoring each team for a period of about two months (or 2-4, two-week sprints). In the DevOps team, they enable the cloud environment, build the pipeline, and train the team. They are also responsible for release training maintenance handover, ensuring the continuous measurement of results and feedback to improve processes. In addition, they are embedded in human resources to encourage a flattened hierarchy, within finance to look at both quantitative and qualitative budget considerations, and within every team in the organization to enhance specific functionalities. In this way, an organization-wide transformation can take as little as eight weeks, adding huge value up front and creating a method for ongoing improvement afterward.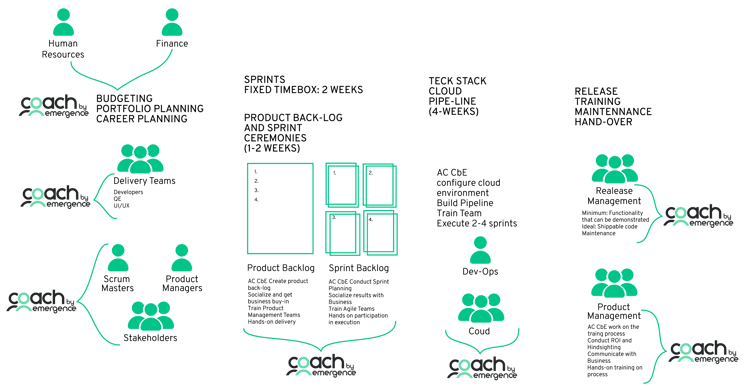 Conclusion
In nearly every industry, the importance of digital evolution for continued market viability and improved competitive advantage is rapidly increasing. A successful digital evolution depends first on a solid business strategy, and then on accurately defining high ROI opportunities through design thinking-oriented services. Finally, the best results are realized when every area of the company has the right mindset, methods, and technologies in place to capitalize on business opportunities. Within today's globally uncertain environment and increasingly competitive marketplace, a high level of digital maturity is more important than ever, as it enables companies to reinvent their products and services. If you'd like to keep this blog series as a reference, you can access the full whitepaper for free here.
Evolve in 90 Days
Avenue Code has accelerated digital innovation for Fortune 100 companies and enterprise organizations in every vertical since 2008. Over the years, our consultancy has developed a highly successful method of kickstarting the next phase of our clients' digital evolution journeys in just 90 days. Here's how it works: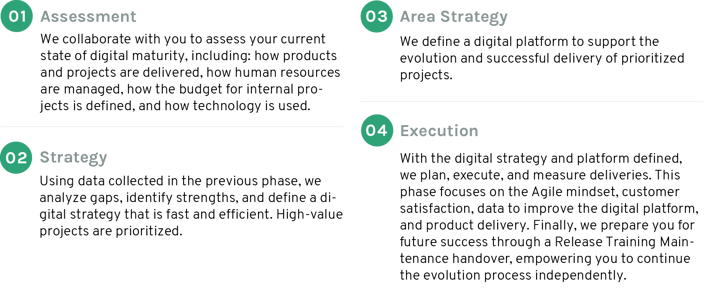 Schedule Your Free Consultation
Innovation is a journey, and there's always a next step to be taken. If you'd like to understand more about your organization's level of digital maturity and explore personalized transformation opportunities, we invite you to schedule a free consultation with one of our in-house experts. Let's Talk!
---
Author
Chrystiane Symoes
Chrystiane Simões is a Principal Technical Manager at Avenue Code with 17 years of experience in IT. In addition to a bachelor's degree in Computer Science and a postgraduate degree in Strategic Project Management, Chrystiane is certified as a Scrum Master with 7 years of experience in Agile. In her career, she has managed distributed teams as a Scrum Master, has worked in digital transformation as an Agile Coach, and has facilitated Agile inceptions and Design Sprints.
---
Related Posts
Agile Transformation in Banking from Strategy to Execution
READ MORE